Holmes and Watson…
Batman and Robin…
Homer and Marge…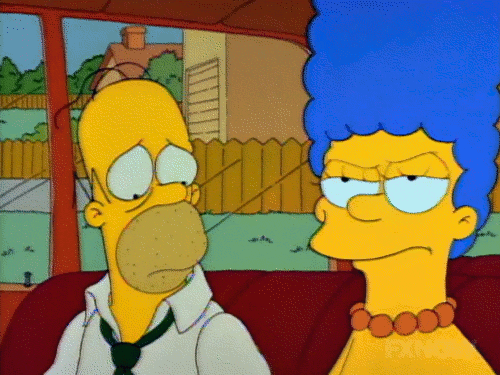 Famous partnerships that have stood the test of time, but what about you and your NQT mentor?
Will your relationship thrive and survive during your NQT year?
Let's hope so.
But how can ensure this happens? How can you get the most out of your induction tutor? What advice, guidance and support can you expect to get?
Meeting your NQT Mentor
When I started teaching in 2004, I remember arriving in the school car park on my first day and sitting in my car. Palms sweating, heart pounding and stomach doing more somersaults than Simone Biles.
I was lucky.
I'd been at this school as a student on my teaching placement, so it wasn't totally unfamiliar. I had also been in during the holidays and met a few people, but there were so many names and faces to remember.
Gripping on to the edge of the seat, I closed my eyes and took a deep breath.
You can do this! I told myself sternly.
Opening the car door, I looked across to see a lady I recognised from the interview – the Deputy Head. She waved and smiled and waited for me to get my bags from the boot of the car.
A wave of relief washed over me as I knew that I wouldn't have to go in alone.
I didn't know at that point, but this was the lady that was going to be my NQT mentor. The person to show me the ropes, to guide me and motivate me in my teaching and encourage me to be the best teacher I could be.
This was the lady that was going to get me through my induction year.
Thirteen years later and I have been an NQT mentor on many occasions; introducing young teachers to their chosen careers and doing my best to guide them on the right path, encouraging them and motivating them to be the best that they can be.
But what makes that relationship work? What needs to happen to ensure that both parties get something from it? How can you, the NQT, have a successful induction?
How can your NQT Mentor Help You?
These are 5 things that you should know about your NQT mentor and how they can help you:
They should have Qualified Teacher Status (QTS), dedicated time to help and support you and the patience to help you navigate your way through the different situations that present themselves.
Induction tutors need the experience and knowledge to help you succeed – an ideal length of teaching experience for them is five years. This then ensures they are confident to give you the guidance and support you need.
Regular reviews should be part of the induction process. You will have three formal reviews – one at the end of each term – but weekly informal chats can be really helpful. They will also carry out observations of your teaching usually once per half-term.
They should create an action plan for you if things aren't going well – the action plan should have small-step targets that you can work on and should be achievable with the right level of support.
A mentor should be an outstanding teacher! I firmly believe that NQT mentors should provide you with the best teaching to observe and learn from. They need to have excellent practice to draw on and use it to give you tips and advice on your own teaching. This isn't a statutory requirement mind you, but it would be if it were down to me!
I'll get off my rather wobbly soapbox. Now, where's Hyde Park Corner…?
What about you?
What can you do to ensure that you become the teacher you want to be?
The fact is that most of your NQT year success is down to you.
But you knew that, right?
Remember: success is a journey, not a destination.
5 Things Your NQT Mentor Needs to Hear You Say
So here are the 5 things that your NQT mentor needs to hear you say this year as you embark on this journey – I get a little bit mean during this part so be prepared:
1."I have the evidence"
Now I know NQT files are a sore point for a lot of you, but they are part of the process.
Make things easier on yourself by getting into the habit of adding one thing to your file each week, not adding 87 things to your file the night before your assessment review.
Show the evidence in your teaching, in your discussions with your mentor and/or SLT, as well as in paper form in your folder. Embrace the folder! Love it as if it were your own offspring. You are going to have a close relationship with it this year, so you may as well.
Yes I know you have loads of other things on your to-do list and you're probably going to hate me for saying this, but make sure that NQT file is on that list.
2."I am ready and enthusiastic"
You must participate fully in the induction process. Don't be half-arsed about it all otherwise this will be a long year. Put your energies into the things that matter, the things that are going to make a difference to your teaching and to the learning of the children.
Sometimes NQTs do an elaborate west-end show for their observation lesson. Stick to the basics and get those right. Worrying about dressing up as an inventor is just something you don't need right now. Making sure the children make progress, is.
Word of Warning: Be careful with your enthusiasm though; use it wisely. It is tempting to be enthusiastic about everything so that you make a good impression. This will lead to you burning out by Christmas and never being enthusiastic about anything ever again.
Not even wine or chocolate.
Learn to say 'no' when your plate is full.
3."I can reflect well and listen to advice"
If NQTs took an oath at the start of their teaching careers, this should be part of it. One of the biggest mistakes I ever made as an NQT (and there were many) was to question the observation feedback from the headteacher.
I know, right? What was I thinking? I look back now and want to punch myself in the face. But I learned a lesson from that experience and I have put it to good use ever since.
You're not perfect; you never will be.
So stop trying to be.
Some lessons will be awesome (normally the ones no one is there to see) and some will just be horrendous (why did you come into teaching again?). If you are observed and the lesson goes terribly wrong (Y1 capacity lesson involving water trays and jugs- let's leave it there), you need to say so.
Own up; 'fess up; shout it from the rooftop.
You will be a much better teacher because of it and you'll get better observation feedback as a result.
Your lessons will be criticised sometimes. Deal with it. We've all been there.
The important thing is to learn from those types of experiences. What could you do better next time? How can this improve your teaching? What could you try tomorrow/next week?
Always look forward; nothing is going to help you by looking back and crying* about the lesson that was crap. Every teacher, even experienced ones like me, have crap lessons and we choose to learn from them and move on.
Those that couldn't are no longer teachers.
*You can cry a little bit, but then blow your hooter and be done with it.
4."Can I ask your advice?"
If you've read any of my books (if you haven't, you should, they're quite good), you'll know that I am a big advocate of NQTs speaking up and asking if they don't understand or they want help.
Your NQT induction tutor is there for precisely that reason, to help you.
If you don't ask, you don't get. Simple.
If you have concerns, raise them. Something you don't understand? Ask for clarity. Need to scream into a pillow? Ask them to choose an appropriate-sized one from the book corner.
Any decent NQT mentors will want to help you in any way that they can. Don't be at their door every 5 minutes as this can be hard for any mentor to handle, but don't be afraid to ask.
Try to be a solution-based mentee. If there is a problem, what could the answer be? What could you try? It is much easier to guide and help people who want to help themselves.
FYI: If you have no idea, that's fine too! It's not meant to be a test.
5."I need some extra help"
This isn't something that all of you will say to your mentors during the year. But sometimes things need a bit of extra attention, so that is why this makes the list today.
More importantly, if you feel that things aren't going well at all, your mentor needs to know.
There is no shame in finding this year hard. Everyone does; even those people who have the shiny planning files and the assessment collection that makes you want to weep because it's so detailed.
They probably don't have a life.
I, however, am a huge advocate of NQTs having a 'life' during their induction year. It is so important that you spend time doing the things you love with the people you love.
Clearly the government disagrees with me, but that's another blog post.
If the year is harder than you can cope with or your teaching isn't as good as you want it to be, an action plan of small step targets can help you. Talk to your mentor about it and extra support can be put in place as needed.
If a plan is given to you, please follow it and work hard on those small steps. It should be tailor-made for your needs, so be open to identifying what they are and then work hard on improving those aspects of your teaching.
Summary:
By following these tips you should find that your NQT year passes smoothly and that you establish a great relationship with your mentor.
It won't always be easy and there might be times when there is tension, but that happens in all relationships and in all walks of life. Ultimately it should be a success.
Who knows?
You might be the next Lennon and McCartney.
Have you got any tips for making the relationship a success? Leave them in the comments box below…